Step into Eve's Leaves, Sandpoint's finest specialty store for women, and discover feminine, stylish fashion. Pamper yourself with unique, carefully chosen apparel collections and accessories to complement you and your contemporary lifestyle. Enjoy personalized service as you search for just the right look.
We specialize in casually elegant, comfortable clothing for work, home and play. Eve's Leaves features specially chosen collections from top fashion designers, including Fresh Produce™, Tribal Sportswear™, Eileen Fisher, Not Your Daughter's Jeans, Live a Little, French Dressing, Ravel, Chalet, Comfy, Sun Kim, Willow, Christine Alexander, Rico, PBJ Sport, Click, Kleids, Casual Studio, and many more.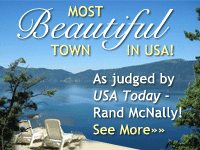 At Eve's Leaves, we'll help you put together perfect outfits from head to toe. It's what we do!
You deserve the best, so treat yourself with a visit to Eve's Leaves. You'll find quality, fit and fashion – and have fun, too! Eve's Leaves is located downtown in beautiful, historic Sandpoint, Idaho.
How may we serve you best? Click here to let us know. We'll e-mail to let you know what's arriving. We'll e-mail to invite you to special sales and promotions.